The Escape Line: How the Ordinary Heroes of Dutch-Paris Resisted the Nazi Occupation of Western Europe
Megan Koreman
Oxford University Press
Published: 07 May 2018 (Hardcover)
424 Pages | 75 b/w images; 9 maps
ISBN: 9780190662271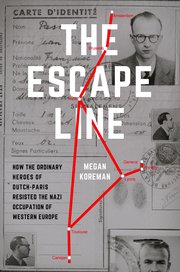 The only full-length accounts of the Dutch-Paris Escape Line. Koreman is the only historian who has been granted access to the extensive collection of the private papers of Jean Weidner, the leader of the Dutch-Paris Escape Line. Sheds new light on the secret world of the resistance.
Of all the resistance organizations that operated during the war, about which much has been written, one stands out for its transnational character, the diversity of the tasks its members took on, and the fact that, unlike many of the known evasion lines, it was not directed by Allied officers, but rather by group of ordinary citizens. Between 1942 and 1945, they formed a network to smuggle Dutch Jews and others targeted by the Nazis south into France, via Paris, and then to Switzerland. This network became known as the Dutch-Paris Escape Line, eventually growing to include 300 people and expanding its reach into Spain. Led by Jean Weidner, a Dutchman living in France, many lacked any experience in clandestine operations or military tactics, and yet they became one of the most effective resistance groups of the Second World War. Dutch-Paris largely improvised its operations-scrounging for food on the black market, forging documents, and raising cash. Hunted relentlessly by the Nazis, some were even captured and tortured. In addition to Jews, those it helped escape the clutches of the Nazis included resistance fighters, political foes, Allied airmen, and young men looking to get to London to enlist. As the need grew more desperate, so did the bravery of those who rose to meet it.
Using recently declassified archives, The Escape Line tells the story of the Dutch-Paris and the thousands of people it saved during World War II. Author Megan Koreman, who was given exclusive access to many of the archives, is herself the daughter of Dutch parents who were part of the resistance.
OUPblog: 'The Second World War as refugee crisis'
See also: http://dutchparisblog.com/